Vietnam's top lawmaker has affirmed that Vietnam attaches importance to the relations with the US and is resolved to implement reached agreements in accordance with the spirit of the comprehensive partnership between the two countries.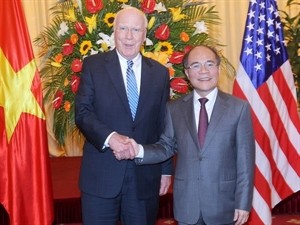 NA Chairman Nguyen Sinh Hung (R) and President Pro Tempore of the US Senate Patrick Leahy (Photo: VNA)
National Assembly Chairman Nguyen Sinh Hung made the remarks during his talks on April 17 with President Pro Tempore of the US Senate Patrick Leahy, who is in Hanoi for an official visit.
The NA Chairman spoke highly of the significant contributions that Leahy and other US Congressmen have made to heal the wounds left by war in Vietnam.
He expressed his hope that the two countries will further these efforts, looking towards a new relationship in the long-term interest of both nations.
The current level of cooperation has yet to match both sides' potential, Chairman Hung said, suggesting the two countries' legislative bodies enhance their exchange to push for a swift recognition of Vietnam as a market economy. He also said the two sides should work together during the negotiation of the Trans-Asia Pacific Partnership deal to reach agreements benefiting both sides, avoiding decisions that can affect bilateral economic and trade ties.
Vietnam wishes that the US Congress will allocate sufficient funding to deal with humanitarian issues in Vietnam, he also declared.
NA Chairman Hung used the occasion to invite the US Senate leader to attend the 132 nd Assembly of the Inter-Parliamentary Union, which Vietnam will host in 2015 – the year marking the 20 th anniversary of the Vietnam-US diplomatic ties.
Senator Leahy said during this visit, his delegation comprising both Democrat and Republican law makers want to seek cooperation opportunities to strengthen the relations between the two countries as well as the two legislative bodies.
He affirmed his support for the US' efforts in addressing consequences of the war and fostering ties between the two countries' people.
Successes in socio-economic cooperation between the US and Vietnam are of special significance as they help direct and forge bilateral ties in the future, he said.
The guest noted his hope that the two countries' generations will build on the fruitful relations, thus meeting the aspiration of both countries' people.
Later in the day, NA Chairman Hung hosted a banquet for the President Pro Tempore of the US Senate and the US congress delegation