Prime Minister Nguyen Tan Dung received the Lord Mayor of the City of London , Michael Bear and the United Kingdom business delegation in Hanoi on March 22.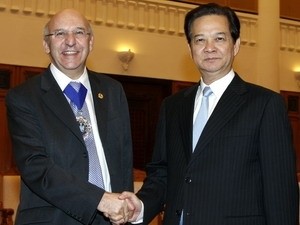 PM Dung receives Lord Mayor of the City of London, Michael Bear
At the meeting, Dung expressed his pleasure over Mayor Michael Bear and his entourage's visit to Vietnam , especially after the two countries signed an agreement on a plan of action under the framework of their strategic partnership.
He added that the visit is an important landmark to highlight new developments in the two countries' diplomatic relations.
Dung also spoke highly of the results of the seminar between the UK Enterprises Delegation and the Ministry of Planning and Investment on implementing public-private projects and said he hoped the Mayor would help boost the plan on establishing a new financial and commercial center in Hanoi in the future.
The PM affirmed Vietnam's wishes to enhance cooperation with the UK enterprises, with a view to bolstering the two countries' relations as well as to study experiences of the UK 's market economy, adding that Vietnam will facilitate UK investors in various fields including aviation, petroleum and banking.
Mayor Michael Bear expressed his pleasure over the PM's reception and said that Vietnam had a huge number of development programs that British businesses would like to be involved in, highlighting that the UK will be ready to share its experiences to help implement public-private projects in Vietnam as well as assist with the construction of a financial and commercial center in Hanoi.
In 2010, trade turnover between Vietnam and the UK reached US$2 billion.

Related article:
Lord Mayor of the City of London to visit Vietnam