Following up on an agreement reached between Vietnam and the US in June 2008 during Prime Minister Nguyen Tan Dung's visit, the two countries held the third round of negotiations for the Vietnam-US Bilateral Investment Treaty in Washington from November 17 to 19.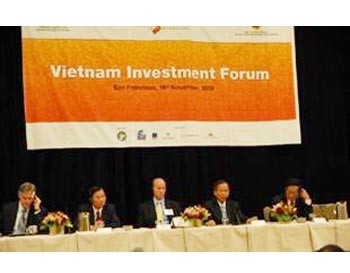 The Vietnam Investment Forum was held in San Francisco, the US, on November 16, 2009, a day before the third round of negotiations for the Vietnam - US Bilateral Investment Treaty began in Washington. (Photo: VOV)
The two sides reviewed and exchanged views on the provisions of the draft BIT initiated by the US, and identified their interests to prepare for the more intense negotiations to follow.
Vietnam offered clarifications to some US queries and raised concerns about a number of provisions, especially those on money transfer, financial services, list of non-conforming measures to which the reservation applies, minimum treatment standards, and drafting and publication of laws and decisions related to investment, expropriation, investor-state dispute settlement, scope of application of the treaty, relationship between the treaty and other international treaties and agreements to which Vietnam and the US are or will be parties.
The US delegation clarified some of the objectives and requirements of the BIT. It also recorded Vietnam's concerns and tried to understand Vietnam's legal and practical impediments in complying with the regulations.
The US suggested that the next round be organized in Vietnam in early 2010 and the Vietnamese side promised to reply soon.