The welcoming ceremony was held at the headquaters of the Ministry of National Defense in Hanoi with the participation of Ambassador Dan Kritenbrink and military leaders of the two sides.

Minister of National Defense General Ngo Xuan Lich affirmed the defense cooperation is an important landmark for the Vietnam-US comprehensive partnership. The US Secretary of Defense Mark Esper's trip to Vietnam aims to implement contents of the agreement on promoting defense collaboration signed between the two ministries, make a contribution to the friendship between the armed forces and people of two countries.
At the meeting, the two sides shared concerns and issues, and stressed the importance of maintaining a peaceful and stable environment for the development.
The two ministers also highly appreciated the results in missing-in-action servicemen, bomb and mine clearance, Agent Orange (AO)/dioxin remediation, United Nations peace-keeping operations, training, military medicine and the improvement of law enforcement capacity at sea, disaster relief and humanitarian aid.
The two sides will continue to boost the contents of the memorandum of understanding on promoting defense collaboration signed in 2011, the joint vision statement on defense cooperation inked in 2015 and the cooperation plan for 2018-2020. Their fields of concentration are high-ranking delegation exchange; enhancement mechanisms of consultation, dialogue and cooperation in solving consequences of war; Bien Hoa airport dioxin cleanup project; disaster search and rescue activities and humanitarian aid; marine security, military medicine, English training; defense industrial cooperation and UN Peacekeeping.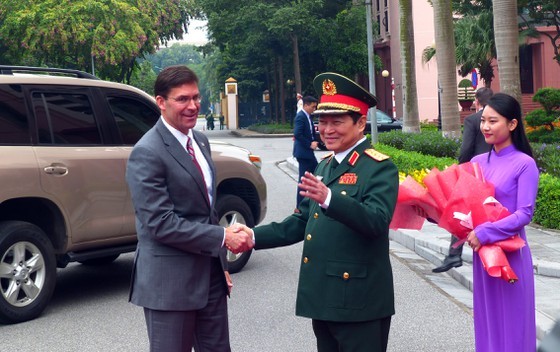 Defense Minister General Ngo Xuan Lich receives US Secretary of Defense Mark Esper.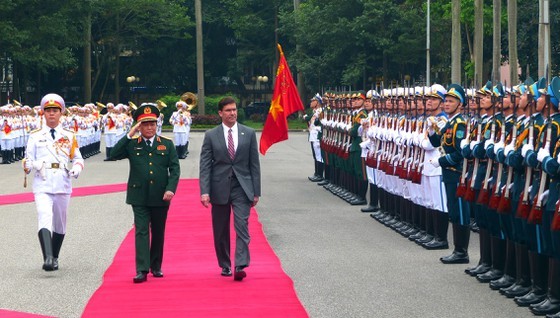 Defense leaders of the two countries review the honour guard of the Vietnam People's Army.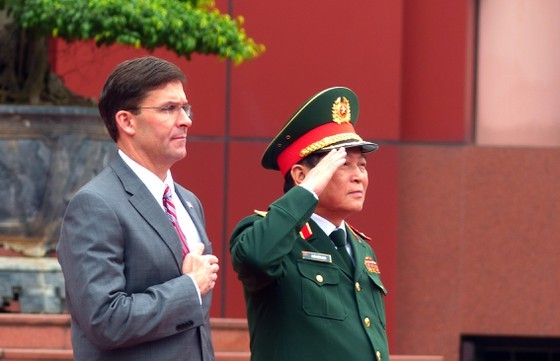 At the national anthems ceremony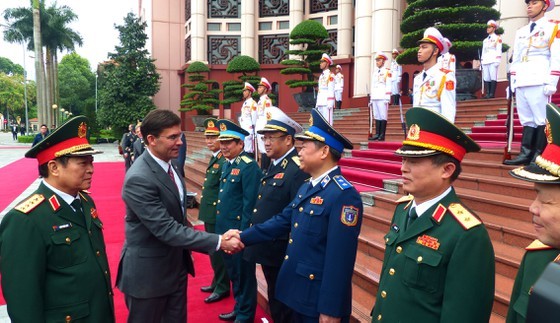 US Secretary of Defense Mark Esper meets officers of the Vietnam People's Army.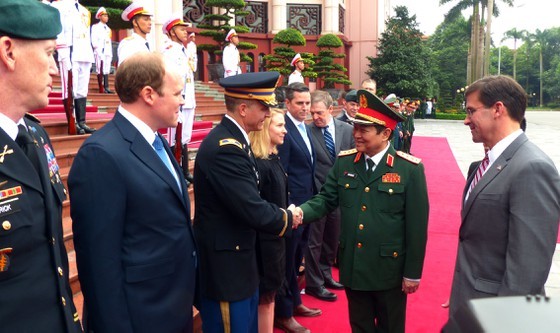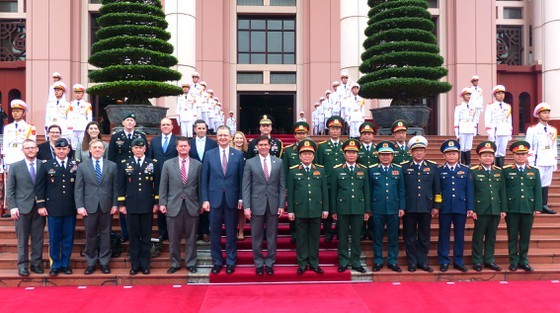 At the welcoming ceremony