Vietnam and the US have announced that they are to establish a joint working group to study effects of climate change as part of a bilateral agreement on scientific and technological cooperation.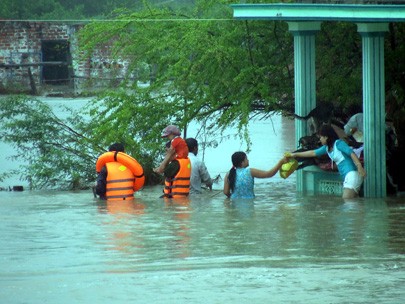 Unpredictable flood is  a sign of climate change (Photo:TTO)
To this effect, an agreement was signed by Dr Tran Thuc, Director of the Vietnam Institute of Meteorology, Hydrology and Environment and Dr. Greg Smith, a scientist with the US Department of the Interior, in Ha Noi on November 17.
Speaking at the signing ceremony, Deputy Minister of Natural Resources and Environment Nguyen Cong Thanh said that the establishment of the Vietnam-US Working Group is an important event marking the start of the relationship between his ministry and the US Department of the Interior.
"From this event, the two ministries will continue expanding their cooperation to other fields relating to the environment and natural resources," he also said.
The establishment of the working group will help to enhance the US ' role in addressing world climate change issues, said Dr. Tran Thuc, who has been appointed as co-president of the working group. He added that this also lays a foundation for Vietnam to implement its national programme on climate change.
A representative from Can Tho University told the event that the Delta Research and Global Observation Network (DRAGON) Centre will be formally inaugurated at the university on November 20.
As an initiative undertaken by the US Department of the Interior, the centre will conduct research into climate change in the Mekong Delta, a densely populated, low-lying region with an extensive network of canals and rivers.
Related article:
Climate change a major threat to Viet Nam