Vietnam places great importance on developing long-term and stable cooperation and boosting mutual trust with New Zealand.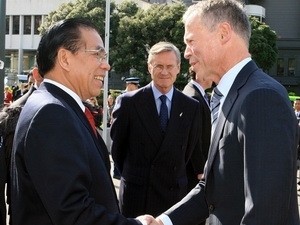 Party General Secretary Nong Duc Manh (L) shakes hands with New Zealand Parliament Speaker Lockwood Smith.
Party General Secretary Nong Duc Manh made the statement while meeting with New Zealand Parliament Speaker Lockwood Smith in Wellington on September 10.
While affirming fine developments in ties in recent years, General Secretary Manh thanked the Parliament, Government and people of New Zealand for their active contributions to Vietnam's socio-economic development, especially in education and training and labor cooperation, as well as their support for Vietnam's successful bids to enter the World Trade Organization and gain a seat as a non-permanent member of the United Nations Security Council (UNSC).
He expressed his wish to receive New Zealand's continued support in future, especially as Vietnam assumes responsibilities as Chair of the Association of Southeast Asian Nations (ASEAN) in 2010 and Chair of the ASEAN Inter-Parliamentary Assembly during the 2009-2010 term.
The Vietnamese Party leader highly valued the effective coordination between the two countries in the framework of regional and international organizations and forums, including ASEAN, the East Asian Summit (EAS), the Asia-Pacific Economic Cooperation (APEC) forum and the UN.
The two countries' parliaments have enjoyed close cooperation, especially since the establishment of the Vietnam - New Zealand and New Zealand-Vietnam Parliamentarian Friendship Groups, he said, adding that the two sides have regularly supported each other and organized mutual consultations at regional and international inter-parliamentary forums.
The General Secretary suggested the two sides continue stepping up visits by delegations of parliamentarians and associated organs to exchange experiences, especially in legislative work.

He said he believed that with their unanimity to establish a comprehensive partnership, the friendship and multi-faceted cooperation between the two countries in general and between the two parliaments in particular will develop further, for the benefit of the two peoples and for peace, stability and cooperation in the region and the world as well.
For his part, Speaker Smith applauded the Vietnamese Party leader's ongoing visit, considering it a good chance for both sides to strengthen mutual understanding and experience sharing, helping boost strong relations and joint efforts at all levels between the two legislative bodies and the two nations.
He also said he hoped that activities of the two parliamentarians' groups will be expanded and become more practical and effective, taking relations to a new level.
Party General Secretary Nong Duc Manh and a high-ranking delegation from Vietnam left the New Zealand capital city of Wellington for Auckland city on September 11.

Upon arrival in Auckland, the Vietnamese delegation visited the New Zealand Institute for Plant and Food Research - an institute that takes part in scientific cooperation between the two countries.