Vietnam is seeking to conduct economic restructuring and create favorable conditions for investors and enterprises to do business in the country, Deputy Prime Minister Hoang Trung Hai said at an international summit on investing in Vietnam, held in Hanoi Wednesday.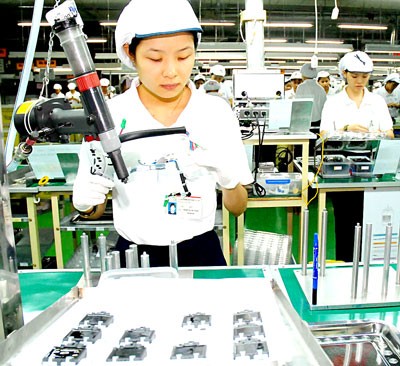 (File) A worker makes electronic parts at a factory of Japanese group Nidec in Ho Chi Minh City (Photo: Kim Ngan)
The country welcomes the participation of foreign enterprises in the country's reform agenda, he said at the meeting, co-organized the Vietnamese Ministry of Foreign Affairs and the Economist Conferences.
"The Vietnamese Government is determined to create the most favorable business environment and a level playing field for all economic sectors," he said.
"Enterprises are a driving force of a country. If enterprises fail, the country and its Government also fail," said the Deputy PM.
He reiterated that the Vietnamese Government's planned reform agenda would focus on stabilizing the macro-economy.
Vietnam's economic restructuring includes investment restructuring, restructuring the finance and banking system, and restructuring State-owned enterprises.
Mr. Charles Goddard, editorial director of the Economist Intelligence Unit in Asia-Pacific said at the economic meeting that Vietnam has seen rises in foreign investment in the country over the past time.
The Economist forecasts that the Southeast Asian country's economy would expand by 7.2% per year in the 2011-2015 period due to strong growths in consumption, investment and exports.