After a history of blood, sweat and tears to gain freedom and independence, what Vietnam currently wants is stability so that it can quickly grow and further improve the people's living standards, the State President said.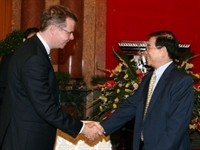 Mr. Triet ( R ) expresses thanks to the Danish Government and people for their practical support and assistance to the Vietnamese people
State President Nguyen Minh Triet made the remark during his meeting with Denmark 's Director of Public Prosecutions, Jorgen Steen Sorensen, in Hanoi on July 7.
President Triet told his guest that he was happy with the development of Vietnam-Denmark relations over the past years, describing the European country as an important partner that has lent Vietnam a helping hand in a wide range of areas, notably industry, agriculture, and the fight against poverty.
He affirmed that cooperative programmes with Denmark have proven effective and contributed to helping Vietnam achieve many of its national targets.
He also expressed thanks to the Danish Government and people for their practical support and assistance to the Vietnamese people during their past struggle for national liberation and current national construction.
The head of state lauded the Danish Prosecution Service for effectively training officials and prosecutors for the Vietnam Supreme People's Procuracy.
" Vietnam is integrating deeply into the world, so it wants to receive more assistance and share more experiences with Denmark and other countries, in many fields, including the judicial domain," President Triet stressed.
He informed the Danish guest that the country has been implementing a judicial reform strategy with the aim of making judicial organs more transparent and efficient, as well as helping the people abide by the law in their daily lives.
As the guest showed interest in some recent legal cases in the country, President Triet explained that the law in Vietnam is different from other States because of its own conditions and historical circumstances, and that accordingly, there may be cases where the assessment of guilt or innocence is made based on different criteria.
He made it clear that the people involved in the cases in question are accused of having violated the law, being fully aware that they were doing so at the time, when they allegedly colluded with foreign elements to attempt to overthrow the Vietnamese State .
The President assured the guest that the responsible Vietnamese authorities are handling the aforementioned cases according to law and that those found guilty will be strictly punished according to law.
The Vietnamese people have been through a long hard fight, over dozens of years, for their national independence and to secure their own human rights, so they deeply cherish human rights, the State President noted.
The Danish guest showed his admiration for the Vietnamese people's achievements in the past and at present, affirming " Denmark respects what has been accomplished by the Vietnamese people.