Caracas (VNA) – Vietnam wants to boost friendship and solidarity with Venezuela as well as to strengthen and expand cooperation between the two countries across a broad spectrum of areas for mutual prosperity, said State President Nguyen Minh Triet.
He delivered the message before Venezuelan parliamentarians in Caracas on Nov. 19 (local time), which is part of his visit, the first by a Head of State of Vietnam, to the Caribbean country since the two countries established their diplomatic ties in 1989.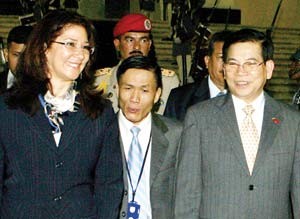 President Nguyen Minh Triet (R) walks alongside Cilia Flores (L), speaker of Venezuela's National Assembly into the Parliament Meeting Hall
The Vietnamese President noted that his visit aims to further consolidate the two countries' solidarity, first of all, to increase the practicality and efficiency of bilateral cooperation in politics, economy, education and training and culture.
"The Vietnamese people always remember and feel grateful for the solidarity and valuable support that the Venezuelan people had provided them during their previous struggle for national independence as well as current national construction," President Triet said.
"Though geographically afar, each has always maintained strong supports for the other in the fight for national liberation," the Vietnamese leader emphasized.
President Triet met with President of the Venezuelan National Assembly Cilia Flores, who described his visit as a new development step to reinforce bilateral ties and confirmed desire to increase bilateral multi-faceted cooperation.
Earlier on the day, the Caracas municipal authority held a ceremony to award President Triet with an "Honorable Citizen" title and give him the City Key.
Caracas Mayor Freddy Bernal Rosales said the award of the "Honorable Citizen" title demonstrates the Caracas and Venezuelan people's friendly sentiment toward President Triet in particular and the heroic Vietnamese people in general.
The same day, President Triet met with representatives of the Communist Party of Venezuela led by its President Jeronimo Carrera, and those of the United Socialist Party of Venezuela led by its Vice President Cilia Flores. The two sides shared experiences on the Party building work in their respective countries.
The Vice President of the United Socialist Party of Venezuela, which was established to implement the goal of building socialism in Venezuela in the 21st century, said her party wants to learn experiences from the Communist Party of Vietnam and to further promote friendship, solidarity and cooperation between the two countries.