Vietnam is determined to open its economy and fully implement all of its other WTO commitments to create favorable conditions for foreign investors, including those from the U.S., Prime Minister Nguyen Tan Dung has said.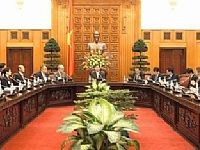 The meeting between PM Nguyen Tan Dung and the Russell 20-20 Association in Ha Noi

 
He was speaking yesterday in Ha Noi at a meeting with the representatives of the Russell 20-20 Association, which consists of many financial institutions and investment funds with total assets amounting to US$12 trillion.
Speaking to about 60 general directors of international financial organizations, PM Dung said he highly appreciated the bilateral cooperative relations between Viet Nam and the U.S., particularly in economics, trade and investment. 
The two-way trade between Viet Nam and the U.S. has reached almost US$13 billion in 2007 and could increase to $15-18 billion this year, he said.
After two years as a WTO member, Vietnam has benefited from some favorable conditions for its economic development, with rapid increases in FDI inflow, the PM noted.
In the past 10 months, the total registered FDI in Viet Nam has reached about US$60 billion.
Despite impacts of the global economic crisis, the country's GDP is expected to grow by 6.5 – 6.7 percent this year, Dung said.

Russell 20-20 Association's deputy head Karl Ege said that on researching business opportunities in Viet Nam, the association had received positive responses from the Vietnamese business community.
American companies have found many investment opportunities in Viet Nam, he said.
Following this visit, the association will encourage its members to expand their investment in Vietnam, boosting economic development, he said.