Vietnam values the official development assistance (ODA) it gets from international donors and will continue to use it efficiently, Prime Minister Nguyen Tan Dung has said.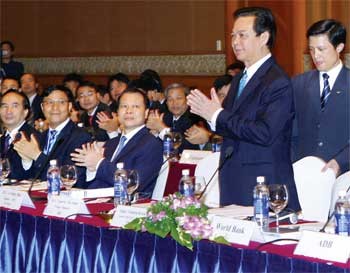 Prime Minister Nguyen Tan Dung speaks at the Consultative Group Meeting for Vietnam in Hanoi December 3 where he assured that Vietnam would use its foreign assistance efficiently (Photo: SGGP)
Speaking at the Consultative Group Meeting for Vietnam (CG 2009) which opened in Hanoi yesterday, he appraised donors about the country's social and economic performance this year amid the global financial crisis and recession.
 
The country is likely to face more economic challenges next year and it would try its best to overcome them, he added.
He appreciated the conference for discussing issues of practical significance for Vietnam like maintaining macroeconomic stability, restructuring the economy for post-crisis growth, State-owned enterprises reform, sustainable poverty alleviation, administrative reform, environmental protection, and fighting corruption.
He hoped the donors would continue to support Vietnam, especially in coping with the impact of climate change and rising water levels.
Vietnam would carry out its commitments in using ODA, ensuring it is used efficiently, he assured.
The World Bank's country director for Vietnam, Victoria Kwakwa, said donors appreciated Vietnam's efforts to combat the economic crisis and achieve growth.
She called on donor nations and organizations to continue to help Vietnam improve its investment environment and become an attractive destination for foreign investors.
Shogo Ishii, Assistant Director of the IMF's Asia and Pacific Department, said "Vietnam has coped with the global economic crisis better than other countries" and predicted it would achieve a 6-percent growth in 2010 as export and foreign direct investment recover.
Warning that inflation could surge from this year's 7 percent to a double-digit rate next year, he said the bigger challenge for Vietnam, however, would be to improve its balance of payments.
Ayumi Konishi, country director for Vietnam at the Asian Development Bank, said Vietnam has taken prompt and effective measures to alleviate the impacts of the economic crisis.
One lesson that can be drawn from Vietnam's responses is its good social security policies, he said, adding it was a key factor in coping with the economic crisis.
Japanese Ambassador to Vietnam, Mitsuko Sakaba, said Vietnam's implementation of projects funded by Japanese ODA has improved.
Japan would provide US$1.6 billion in ODA for the fiscal year ending March 2010, he said.
John Hendra, United Nations Residence Coordinator in Vietnam, spoke about Vietnam's administrative reforms, saying the UN seeks to know about the country's plan to abolish people's councils at the district, ward, and commune levels on a trial basis.
The initiative is likely to usher in a big change in the country's public administration system, he said.
The impacts of climate change were also among the issues he and many other participants were concerned about.
Mr. Hendra recommended that Vietnam should "adopt preventive measures in its long-term development plans."