Prime Minister Nguyen Tan Dung has pledged that Vietnam will focus on directing and monitoring the use of official development assistance to ensure its efficiency.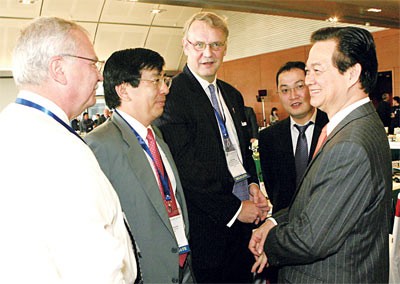 Prime Minister Nguyen Tan Dung (1st, R) shares a light moment with members of the Consultative Group of donors on the sidelines of yesterday's meeting in Ha Noi (Photo: SGGP)
Speaking at the opening session of the 2008 Consultative Group (CG) meeting in Ha Noi yesterday, he said, "Viet Nam honors every penny of ODA and will fulfill its commitments to donors with a high sense of responsibility."

He expressed Viet Nam's high regard for the assistance that the international community has given it.

Highlighting the key role that ODA has played in the country's socioeconomic development since 1993, he said it has helped immensely in upgrading infrastructure.
It has also helped his country achieve good results in a wide range of fields like healthcare, education, administrative reform, environmental protection, rural development and, particularly, poverty reduction, he noted.

Despite the global economic crisis, Vietnam has achieved some remarkable results this year, he said, pointing out that it has curbed inflation, increased exports by 34 percent, and attracted foreign investment worth US$60 billion, the highest ever.
To minimize the impact of the global recession and keep out the contagion, his Government plans five measures, he said.

He listed them as boosting production and export; promoting consumer spending and investment; adopting appropriate and flexible financial policies; ensuring social welfare; and mitigating poverty and hunger.

James W. Adams, vice president of the World Bank, who co-chaired the meeting, appreciated the Government's measures to stabilize the economy and rein in inflation.

But he warned that the world crisis would surely affect Vietnam.

He referred to the need to further assist the poor since they are the worst sufferers during this difficult period, to protect the environment, and to reform institutions to ensure a sustainable growth rate.
He urged the Government to intensify its fight against corruption.

He praised Vietnam for instituting programs to respond to climate change.
On behalf of the donor community, he pledged to help the country's efforts to overcome challenges to growth.

Shogo Ishii of the International Monetary Fund said Vietnam's medium- and long-term economic prospects remain bright on the back of the Government's pledge to continue with reforms.

He suggested that Vietnam should increase its foreign currency reserves, appropriately allocate funds as well as human resources to development projects, closely monitor the banking system and enterprises, especially large state-owned ones -- and take immediate steps to address their risks -- and speed up structural reforms to boost foreign investors' trust.

Japan suspends aid

On the sideline of the meeting, Japanese ambassador to Vietnam, Mitsuo Sakaba, told the media that his government has suspended ODA to Viet Nam until the investigation into the PCI corruption case is wrapped up.

He was referring to allegations by executives of Tokyo-based Pacific Consultants International (PCI) that they had to bribe Huynh Ngoc Si, director of the Project Management Unit in charge of the East-West Boulevard and Water Environment.

Japan had announced ODA loans of 65.3 billion yen (over $700 million) in the first half of this year to improve transport and sewerage systems.

"I would like to emphasize that the Japanese government has not reduced or stopped providing funds to Vietnam, but just suspended it until everything is clear. I hope the investigation into the PCI case will soon show results," he said.


Since resuming aid in 1981, Japan has been the leader in providing ODA to Vietnam. It accounts for 30 percent of ODA committed to the country by international donors.

Some of the major works built with financial assistance from Japan include Bai Chay Bridge in Quang Ninh Province, the new terminal at HCM City's Tan Son Nhat International Airport, the East-West expressway, the Hai Van Tunnel, and the Pha Lai and Phu My thermal power plants.