A Vietnamese schoolgirl, 13-year-old Nguyen Dac Xuan Thao, won the second prize in the UPU letter writing competition this year, following a schoolgirl from the Czech Republic.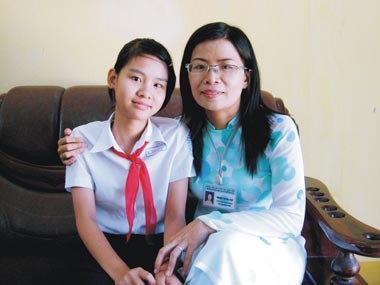 Nguyen Dac Xuan Thao (L) and her teacher
The jury agreed that "centered on her father's working accident, her composition was a fine example to readers all around the world." To quote her letter: "Unless they can guarantee safety, factories cannot obtain a production permit… This is intended to reduce the number of accidents at the workplace and to help realize the dream of better working conditions for all."
This is a "beautifully structured letter, added the jury.

Nguyen Dac Xuan Thao wrote a letter to President Nguyen Minh Triet and her letter won the first prize in Vietnam and then translated into French to take part in the international competition.

"The letter is very humanistic", the Vietnamese jury remarked.

The letter was also said creative because Xuan Thao imagined she was a little daughter whose father became disabled after a labor accident. The daughter told her story, hope and her father's accident to the President. In the letter, Xuan Thao also reflected how bad labor conditions would affect on workers' life and their relatives.

Appreciating the first winner letter by Czech schoolgirl Dominika Koflerová, the judges said that Dominika took an original approach but she also clearly explained how rich countries can help to improve working conditions by consuming fair-trade goods".
"Her understanding of the issue came over well in her letter. Whenever we eat a chocolate bar in the future we shall think of the prize winner's letter," added the judges.
In her letter, Dominika wrote: "The chocolate I had just been eating was no ordinary chocolate. The Zambian producer who made it received enough money to give him and his family a decent living"
Almost 60 countries and more than 2 million children took part in the competition – the 38th – on the theme: "How decent working conditions can lead to a better life". The theme had been chosen jointly with the International Labour Organization, which launched a wide-ranging campaign on decent work last year.