Prime Minister Nguyen Tan Dung received Margaret Chan, General Director of the World Health Organisation (WHO), in Geneva on January 27.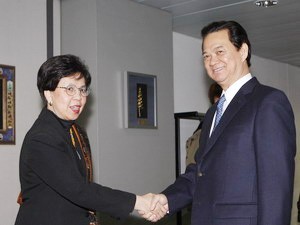 Vietnamese Prime Minister Nguyen Tan Dung meets WHO's General Director, Magaret Chan in Geneva on Jan. 27 (Photo: VNA)
PM Dung has been leading a Vietnamese delegation to attend the annual World Economic Forum (WEF) in Davos , Switzerland , from January 25-31 at the invitation of WEF Chairman Klaus Schwab.
The PM said with suitable polices and measures, Vietnam achieved many important successes in health care. The country may reach the millennium goal on reducing the death rate in two significant categories--children under one and under five years old--in 2010, five years ahead the set target.
In addition, the Vietnamese PM said, the country actively contributed to boosting international cooperation in health care at WHO conferences and forums and ASEAN conferences on controlling the bird flu and A/H1N1 flu.
Vietnam 's efforts and successes in bird flu were recognised by the international community and the country was selected to host the ministerial-level international conference on bird flu in April 2010, he said.
PM Dung thanked WHO and spoke highly of their assistance and cooperation with Vietnam, especially in disease control, improvement of health checkups and treatment, policy building and mechanism on healthcare and training health workers and managers at all levels.
The Vietnamese PM asked the organisation to continue assisting Vietnam under the framework of their mutual agreements, focusing on improving the capacity of the health care system through developing human resources, strengthening policies and technology transfer and increasing the country's capacity in coping with diseases, including research into the A/H1N1 and H5N1 flues and production of vaccines against those diseases in Vietnam.
He also asked WHO to continue provide Vietnam with more vaccines to fight the flues and support a programme to train 600 doctors in preventive medicine for the 2010-2015 period.
Welcoming the Vietnamese leader, Margaret Chan praised Vietnam for its achievements in health care, especially in the fight against A/H5N1, A/H1N1, SARS and HIV/AIDS.
She thanked Vietnam for its effective cooperation in epidemic forecasting and control and affirmed her organisation's support for Vietnam in this work, especially improving its capacity to cope with diseases, as well as helping in the training of nurses and doctors.
The same day, PM Dung visited the Vietnamese Embassy in Bern and travelled to Davos for the WEF.