The Vietnam Women's Union (VWU) on September 23 announced the winners of the Vietnam Women Prize, which went to ten individuals and five teams who have achieved pre-eminence in public life.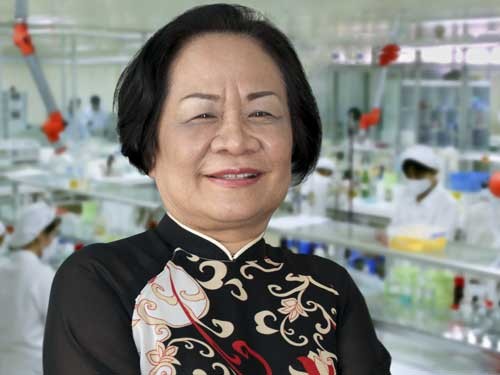 Pham Thi Viet Nga, director of Hau Giang Pharmaceutical Company wins the prize
VWU also marked their 83rd anniversary, during which they introduced Creative Women Day.
This year, the winners have been selected for both excellent models in scientific research and those who overcame daily difficulties to become successful woman in society and support other unfortunate persons in the community.

Ten individuals received the prize including Dr. Khu Thi Khanh Dung, Vice Director and Chief of Neonatal Department at National Hospital of Pediatrics in Hanoi; Pham Thi Huan, Director of Ba Huan Company; Giang Pao My, Chairman of Lai Chau People's Council; and Pham Thi Viet Nga, Director of DHG Pharmaceutical Joint-Stock Company.

Ten teams including female staff of the Mekong Delta Rice Research Institute; female medical workers in Le Huu Trac National Institute of Burns; and members of Women's Union in An Giang Province won the prize.

On the occasion, an exhibition themed to highlight Women's Rights and Economic Background will display 38 exhibits in Vietnamese Women's Museum from October 1.

The Hanoi International Women's Club (HIWC), a non-profit group whose membership is open to all expatriate women living in Vietnam, gave Female Vision Award 2013 to Nguyen Thi Lan Anh, founder and director of Action to the Community Development Center to acknowledge her efforts in promoting people with disabilities.

Having been born with glass bone disease and confined to a wheelchair throughout her life, Nguyen Thi Lan Anh has overcome her difficulties to help people with disabilities living in Vietnam.
Through her project Xuong Rong Van No Hoa (Cactus Blooming), her center provided people with disabilities in Ba Vi and Soc Son Districts in Hanoi with law consultation and access to preferential loans.