The Vietnamese government will work closely with the Danish government to increase the value of two-way trade to US$1 billion and create advantage conditions to develop business relations, it was reported November 3.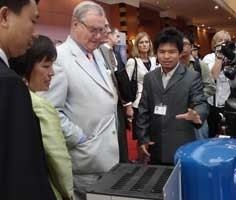 Denmark's Prince Henrik (Middle) at the Vietnam - Denmark Business Forum on November 3. (Photo: Lao Dong)
The news was announced at a Vietnam- Denmark Business Forum, held in Hanoi, with the attendance of Denmark's Prince Henrik, Permanent Deputy  Prime Minister Nguyen Sinh Hung and hundreds of business leaders from Denmark and Vietnam.
Speaking at the forum, Mr Hung highly appreciated Denmark's high technology, business management and climate change policies.
In related news, a seminar on cooperation in tertiary education between Vietnam and Denmark was held the same day in Hanoi, with the participation of Niels Brock Copenhagen Business College, Danish investors and Vietnam universities.
The Danish side proposed joint training programs with Vietnamese universities, such as studying three years in Vietnam and one year in Denmark.
The application of modern teaching methodologies were also discussed, including developing professional and IT skills, and improving modern language abilities.