Vietnamese embassies in Algeria, Angola and Romania recently held activities to mark the 40th anniversary of southern liberation and national reunification (April 30).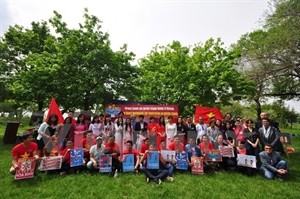 Vietnamese students in Italy celebrate the Southern Liberation Day (Photo: VNA)
The April 30 victory was a decisive event in the 21-year fight against American invaders and was the historic end to the 30 struggle for independence and reunification, Vietnamese Ambassador to Algeria Vu The Hiep told a press conference on April 26.
Under the leadership of the Communist Party of Vietnam over the past 40 years, Vietnam has grown from a war-torn and underdeveloped economy into a country of peace and stability with increasing stature in the region and the world, he said.
The same day, the State-owned Algeria Press Service and the daily El Moudjahid also ran coverage of the April 1975 triumph.
In Angola, the Vietnamese embassy opened a course raising awareness about the Party to excellent members chosen from the grassroots youth movements.
In Romania and Italy, meetings celebrating the occasion attracted hundreds of Vietnamese students, expatriates and foreign partners.
The Vietnamese students in Italy called for continued global support to Vietnam in its path to protecting peace, stability and development.
A similar celebration event took place in High School 282 in Moscow, Russia on April 27, with Vietnamese Ambassador Nguyen Thanh Son and former Soviet Union military experts taking part.
On the same day, Venezuelan television channel Telesur broadcast a documentary shot in Hanoi exploring the war and its painful consequences for generations of Vietnamese people. It also showed images of the socio-economic progresses enjoyed by Vietnam, the results of the country's firm determination and exceptional perseverance.