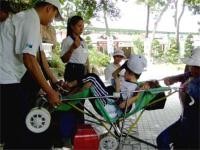 Members of a charity in Ho Chi Minh City assist Agent Orange children in a tour at Dam Sen Cultural Park in town (Photo: Tuong Thuy)
Direct contacts with Vietnamese Agent Orange victims during their one-month tour to ten cities in the U.S. and pictures of Vietnamese people suffering from the toxic chemical have moved many Americans, said professor Nguyen Trong Nhan, head of the Vietnamese delegation to America.
He said they spent three days on average in each of the cities, including Washington, New York, Chicago, and San Francisco, and met lots of Americans.
Two Agent Orange victims, Ho Sy Hai from the northern province of Thai Binh and Dang Thi Hong Nhut from Ho Chi Minh City, represented millions of Vietnamese victims of Agent Orange to tell their own stories to the audience.
Professor Hoang Trong Nhan (Photo: SGGP)
"By this way, we've called for support from American people," said Mr. Nhan, vice president of the Vietnam Association for Victims of Agent Orange/Dioxin (VAVA),
Hai, 61, is a Vietnamese veteran with a prostate disease. All of his three children are Agent Orange victims. Meanwhile, four children of 69-year-old Nhut have died because of dioxin.
Prof. Nhan added the U.S. audience and mass organizations responded to the Vietnamese victims' call, voluntarily raising funds for the victims to continue with the appeal to U.S. Court of Appeals.
According to him, the listeners included scientists, veterans who suffered from Agent Orange during the Vietnam War, and representatives of mass organizations in the U.S. They were asked for support of a lawsuit filed in 2004 by the VAVA against a number of US chemical companies.
A series of activities in support of Vietnamese AO victims were held during the mission's America tour, including a photo exhibition of the victims and documentary films about them. The mission paid visits to the families of many Vietnam War veterans to help them know more about the consequences of the war and what should be done for the remedy.
 
The Vietnam Agent Orange Relief and Responsibility Campaign and the US organization Veterans for Peace (VFP) financed the mission's tour. The delegation left America for Vietnam on December 12.