Ho Chi Minh City Medical University Hospital yesterday organized a grant ceremony to confer Honorary Professor title to a Vietnamese American overseas Dr. Daniel Truong with his outstanding contributions in developing medical knowledge and related treatment technologies to nervous diseases.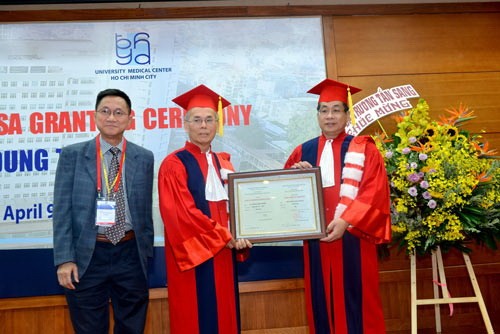 Dr. Daniel Truong ( C) receives title of honorary professor
Earlier, Dr. Daniel Truong successfully held seven international seminars related to neuropathology knowledge with the participation of 86 the world-leading nervous professors and specialists.
Through the international workshops on neuropathology, Dr. Daniel Truong shared experiences to diagnostic and treatment for nervous patients, helping Vietnamese doctors and surgeons to be able to integrate international neurology sector.
Dr. Daniel Truong is currently the chairman of the educational committee for the International Association for Parkinsonism and Related Disorders, a vice chief-editor of Journal of Neurological Sciences and Journal of Neural Transmission, a member of editorial board of U.S and international six journal of neurology, and a director of Parkinson's and Movement Disorder Institute - Fountain Valley, CA, United States.
Besides, he is the author of more than 140 scientific articles and book chapters.