To celebrate the Vietnamese AO Victims' Day August 10, 2006 the Viet Nam Association for Victims of Agent Orange (VAVA) will hold a meeting and art performance at the Hoa Binh Theater in Ho Chi Minh City to launch a fund-raising appeal for AO victims.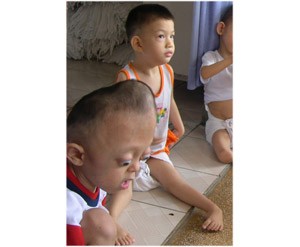 AO victims raised at Hoa Binh Village of Tu Du Hospital ( Photo: U.P)
Recently, VAVA in coordination with Phuong Nga Art Performance Lt., Co. and under the sponsorship of Pham Nguyen Bakery Co. have donated wheelchairs to AO victims in the central provinces of Binh Phuoc, Dac Nong, Kon Tum, the southern provinces of Vinh Long, Tay Ninh, Hoa Binh Village in Tu Du Obstetrics and Gynaecology
Hospital and districts of Ho Chi Minh City.
The association also presented 13 gifts each worth VND 250,000 to the victims in Sa Thay District of Kon Tum province.
In addition, from July 20-27, 2006, the association paid a visit and granted 75 presents each worth VND 200,000 to needy AO victims in the districts of Can Gio, Hoc Mon, Go Vap, Tan Binh, Thu Duc, Nha Be, and district 9.
On the occasion, VND 40 million was handed over to Thien Phuoc Home for the disabled by VAVA.
Also, the association and Ho Chi Minh Television (HTV) have jointly made a features film on AO victims living in Sa Thay District of Kon Tum province where the US troops first scattered Agent Orange, resulting in the largest number of AO victims.