Two Vietnamese victims of Agent Orange, one a former prisoner and the other a student, begin a tour of the US on Saturday to speak to the public about a lawsuit by AO victims that was dismissed recently by American courts.
They plan to tell the Americans the stories of their own, devastated lives.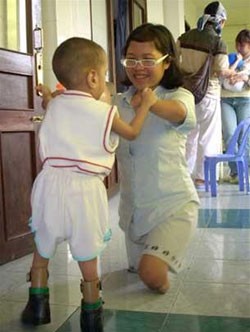 Tran Thi Hoan and a kid in the Peace Village
Tran Thi Hoan studies at the Ho Chi Minh City University of Foreign Languages and Informatics Technology. She was born in the central province of Binh Thuan without feet and an arm. She liked to go to school but could not because her appearance "scared" the other children.
Her life changed when she once sneaked into a wedding and chanced upon a journalist. She was then sent to Tu Du Hospital's Peace Village in Ho Chi Minh City, abroad for fitting prosthetic legs, and, finally, to school.
It took a month for Ms Hoan to get used to the new environment and get to grips with her complex while studying with normal children. Every time she walked past the school gates, she would feel she did not belong. During breaks, when others were running and jumping around, she would sit despondently in class.
She liked biology and would have liked to study biotechnology. But without arms she could not work in labs and so decided to study IT.
This indomitable girl is convinced that only the lazy lose in life.
During her campaign in the US, Hoan will also tell stories of other children in the Peace Village.
"I want to stress that if they are not loved and their lives taken care of, they would be destroyed" Hoan said.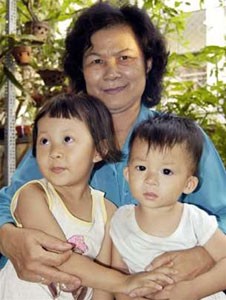 Mrs. Dang Hong Nhat and her adopted grand children
Dang Hong Nhat was a victim of torture in the prisons run by the Americans and the puppet South Vietnamese regime. She was affected by AO during the time she fought for the National Liberation Front of Southern Vietnam and became infertile.
She said that in 1965 she fought in forests where the US Army sprayed the toxic chemical.
Ms Nhat said: "The white powder stuck to leaves and covered the air. We had to cover our noses and mouths. We ate wild vegetables and drank water in streams that were infected with the toxin.
"At that time we had heard about AO but thought if we were affected we would die immediately. We did not know it remained in our [genes] and caused diseases like cancer and infertility."
She aborted five times and the last fetus was born deformed. She has also had two surgeries for malignant tumors.
After realizing she cannot have children, she and her husband decided to adopt a daughter. Now she lives with her daughter's family and is an activist for AO victims, disabled children, and orphans.
"I want to tell the American people what is happening to AO victims, tell them about children disabled due to AO," she said.
"Children do not know anything about wars but have to suffer from the effects of wars all their life," she added.