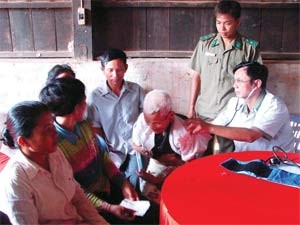 Doctors from policlinic of No.264 examine Cambodians in Thmay Commune
Doctors from the Defence Ministry's Hospital 175 has carried out eye tests and ophthalmic surgeries to hundreds Cambodian patients in Phnompenh's Preahketmealea Hospital.
The fund for charity worth VND530 million (US$33,125) was sponsored by the Alcol Company and Phat Trien Co. Ltd.

On Sunday a delegation of doctors from policlinic of Border Guard Station No. 264 in HCMC and members of the army medical corps from Long An Province's border guard force examined, treated and provided free medicine to 500 Cambodians in Thmay Commune of Svay Rieng Province.

The doctors also gave out tonics and medicines worth VND30 million (US$1,875).

Coop Mart Cong Quynh and other HCMC entrepreneurs gave 500 gift sets worth VND50 million (US$3,125) to the Cambodians.

Vietnamese doctors often visit Cambodian hospitals to carry out examination and treatment for patients there. Last year Vietnamese hospitals and businesses sponsored over VND 2 billion for charity activities in the neighbor country.