Prime Minister Nguyen Tan Dung and British Prime Minister Gordon Brown agreed Wednesday to bring bilateral cooperation between the two countries to progressive partnership during talks in London.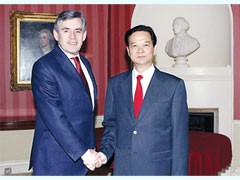 PM Nguyen Tan Dung (R) shakes hands with his British counterpart Gordon Brown in London on March 5
PM Dung said he was pleased at how the two countries' friendship and cooperation has developed, especially in economics, trade, and investment.
The value of mutual trade reached almost US$1.7 billion in 2007, a 21 percent increase of the previous year. Britain is Viet Nam's fourth largest European Union trade partner. Britain has 100 valid investment projects in Viet Nam and a total direct investment of nearly US$1.5 billion, third among EU investors in the country.

He thanked the British government for a marked increase in its official development assistance for Viet Nam. Britain is the largest grant donor to Viet Nam among EU member countries.

He welcomed many major British groups to expand business and investment in Viet Nam and stated that the Vietnamese government has permitted HSBC and Standard Chartered to set up wholly foreign owned subsidiary banks in Viet Nam in line with Viet Nam's commitment to the World Trade Organization.

For his part, Brown applauded Dung's visit to the United Kingdom of Great Britain and North Ireland and spoke highly of the achievements the Socialist Republic of Viet Nam has made during the country's renewal process. Viet Nam is a leading country in implementing the United Nations' Millennium Development Goals.

Brown committed Britain to providing continued assistance to Viet Nam in poverty reduction. He also welcomed Viet Nam's support for "MDG Call to Action" launched by him and by the UN secretary general. He expressed his appreciation of Viet Nam's performance as host of the of the international summit on the One UN Initiative in late 2008.

Brown said he was for stronger bilateral cooperation in education and training and highly appreciated two countries' signing of a governmental-level agreement in the field. He also pledged to help boost English language training in Viet Nam by providing training for English teachers at secondary schools and by increasing assistance to disadvantaged students.

The British leader affirmed that Viet Nam is one of Britain's 17 important trade partners and praised the signing of agreements and economic contracts between the two countries' enterprises during PM Dung's visit.

The two prime ministers issued a joint statement at the end of their talks which pledge to increase cooperation between the two countries to a new level on the basis of a progressive partnership.

PM Dung also witnessed the signing of political and education cooperation agreements between the two countries and a British assistance plan to Viet Nam for the 2008-2011 period.

A day earlier, the Vietnamese PM attended the Viet Nam-UK Business Forum, where he witnessed the signing of deals worth US$2.5 billion between Vietnamese entrepreneurs and their British partners.