The Ho Chi Minh City Buddhist Sangha and the Viet Nam Guinness Book Center (Vietbooks) have recently announced ten records of Buddhism, including two ancient architectural works, four statues and other fine art works.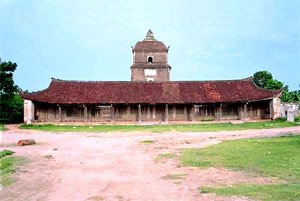 Dau Pagoda

1. The most ancient pagoda is Phap Van Pagoda (usually known as Dau Pagoda), located in Thanh Khuong Commune, Thuan Thanh District, Bac Ninh Province, 30 kilometers away from Ha Noi, built in the third century. As a top famous place of Kinh Bac, the pagoda was recognized as national cultural historical monument by the Ministry of Culture and Information.

2. The pagoda with the most unique architecture in Viet Nam is One-Pillar Pagoda (or Lotus Calyx) built on a stone pillar of 4 meters in height and 1.20 meters in diameter in 1049.

3. The pagoda preserving the most art statues is Sung Nghiem Pagoda (or Sugarcane Pagoda), located in Duong Lam Commune, Son Tay Town, Ha Tay Province in the time of Tran Dynasty. The pagoda has up to 287 statues, of which 174 are made from terracotta.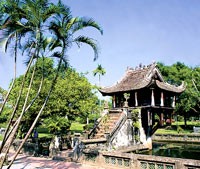 One-Pillar Pagoda (Photo: TC)
4. The biggest stone Buddha statue of Ly Dynasty in Van Phuc (or Phat Tich) Pagoda, which is 3 meters in height, located in Tien Du District, Bac Ninh Province, built in the seventh to tenth centuries. The pagoda was restored in the time of Ly Dynasty; now, it still possesses some sculptural works of this time, such as ten stone animal statues, including lions, elephants, buffalos, horses and rhinos (two statues of each kind).

5. The biggest wooden Bodhisattva statue with a thousand arms and a thousand eyes in But Thap Pagoda in Bac Ninh Province was made by a sculptor in 1656.

6. The most ancient Bodhisattva statue with a thousand arms and a thousand eyes in Thanh An Pagoda, Ha Noi is 132 centimeters in height, made during the Mac dynasty (16th century).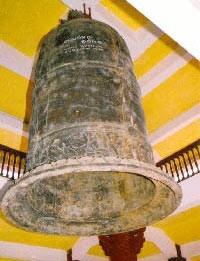 Thanh Mai Bell
7. The highest and biggest bronze Buddha statue in Trang An cultural tourism area, which is 100 tons in weight and 10 meters in height, was cast in Thuong Dong Village, Yen Tien Commune, Y Yen District, Nam Dinh Province to welcome the 1000th anniversary Thang Long – Ha Noi. The statue was sculptured by an artisan named Nguyen Trong Hanh.

8. The biggest bell in Co Le Pagoda in Truc Ninh District, Nam Dinh Province, cast in 1936, is 4.20 meters in height and 9,000 kilos in weight.

9. The most ancient bell is now displayed at Ha Tay Province Museum, found in 1986 by a farmer in My Duong Village (Thanh Mai, Thanh Oai, Ha Tay). The bell is 36 kilos in weight and 60 centimeters in height, made in the year 798.

10. The biggest wish ball is kept at Lan Pagoda (Truc Lam Zen Monastery, Yen Tu Mountain in northern Quang Ninh Province) with a diameter of 1.59 meters and a weight of 6.5 tons, made from a ruby stone.