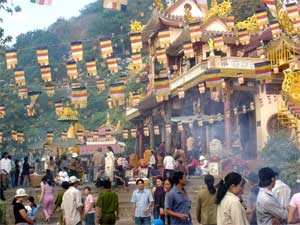 Thousands of people at the Buddha's Birthday (Photo: VH)
The World Buddha's Birthday Festival, scheduled from May 7 to May 10, 2006, will be held in Bangkok, Thailand by the UNESCO, affirmed Superior Buddhist Monk Thich Tri Quang, Vice Chairman of the Vietnamese Buddhist Church, Head of Management Committee of HCMC Buddhist Sangha.
There are around 80 delegations from 14 nations. Over 200 dignitaries, monks and the clergy of the Vietnamese Buddhist delegation, as member of the organizing board, will take part in the festival.
Representative of the Vietnamese Buddhist delegation will make a speech highlighting the tradition of Vietnamese Buddhists and their activities following the guideline "Religion-Nation-Socialism".
Monk Thich Dat Dao, at the 2550th Buddha's Birthday, said that the number of followers, intermediate schools and institutes of Buddhism has notably increase across the country during the past 25 years.
Hundreds of thousands of Buddhist clergymen have taken up university courses, among which 50 monks have reached PhD level, thus contributing to the new height of the Vietnamese Buddhist Sangha, he added.
Representatives of other religions have sent best wishes to the Ho Chi Minh City's dignitaries and Buddhists on the occasion of the 2550th Buddha's Birthday, promising that they will stand side by side with the city's Buddhists in contributing to the growth of religions in the country.

On behalf of the city leaders, Ms. Nguyen Thi Quyet Tam, head of the city Party Committee's Public Relations Department, paid tribute to the great contribution of the municipal Buddhist sangha and its followers particular many charitable activities for disabled children and orphans with the donation of over hundreds of VND billions during the past 25 years.