More than 800 Buddhist dignitaries, monks, nuns and believers gathered at Pho Quang Pagoda in Ho Chi Minh City on June 1 to say prayers for earthquake victims in China's Sichuan Province and flood victims in Myanmar.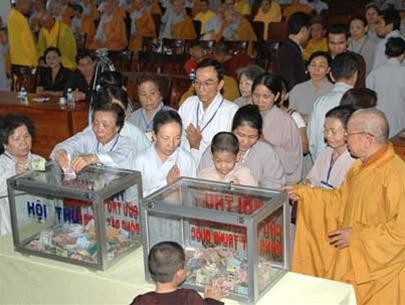 Monks, nuns and Buddhism followers make donations Sunday for Chinese and Myanmar victims (Photo: TTO)
At the requiem, initiated by the city's Buddhist Church , Most Venerable Thich Tri Quang, Vice Chairman of the Viet Nam Buddhist Church Executive Council, called upon Vietnamese Buddhist followers to extend helping hands to Chinese and Myanmar victims.
In response to the Most Venerable's appeal, more than VND400 million(US$25,000) was raised.
Earlier, a batch of 100 tons of rice contributed by HCM City Buddhist followers was shipped to China to help Sichuan victims.
Another sum of VND2 billion (US$125,000) collected from the city's Labor Federation and a music program has been handed over to HCM City Red Cross to help China and Myanmar.