Party General Secretary Nguyen Phu Trong and his Chinese counterpart Xi Jinping discussed initiatives to foster friendly bilateral cooperation over the phone on February 11, in honour of the approaching Lunar New Year (Tet) and the 65th anniversary of Vietnam - China diplomatic ties.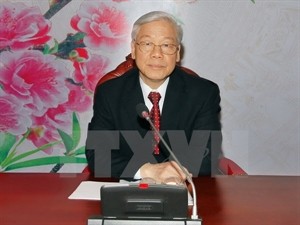 Party General Secretary Nguyen Phu Trong (Source: VNA)
The proposed initiatives focus on facilitating high-level exchanges and actively realising commitments while nurturing coordination between the two Parties, agencies, and peoples, especially the younger generations.
General Secretary Trong said over the past 65 years, the Vietnam-China traditional and neighbourly friendship fostered by Presidents Ho Chi Minh and Mao Zedong and subsequent leaders has been a crucial factor in the triumphs of each nation and an invaluable asset to be inherited, preserved, and upheld.
Over the course of difficult periods, the Vietnam-China comprehensive strategic cooperative partnership must go further for the benefit of both nations and for peace, stability, cooperation and development in the region and around the world, he said.
He suggested further intensifying mutual understanding and trust, boosting mutually-beneficial cooperation across sectors, maintaining peace and stability and sincere communication in order to appropriately solve the East Sea issues in accordance with reached agreements and international law and practices.
China's Party General Secretary and President Xi Jinping congratulated the Vietnamese nation on its strong victories under the leadership of the Communist Party of Vietnam over the past 85 years, and expressed his hopes that the Vietnamese Party and people will fulfil the goals set by the 11th National Party Congress and successfully conduct the 12th National Party Congress.
Lauding the invaluable tradition of friendship and mutual support between the two Parties over the past 65 years, Xi said the Party, government and people of China attach great importance to the friendship with their Vietnamese counterparts.
He expressed desire to deepen their mutually-beneficial collaboration wherever possible and settle differences on the basis of common perceptions between senior leaders. He hopes to push the bilateral friendship forward under the motto "friendly neighbours, comprehensive cooperation, long-term stability and future visions" and in the spirit of "good neighbours, good friends, good comrades and good partnerships".
Both of them also extended their wishes for a happy and prosperous New Year.
The two leaders exchanged invitations to visit their respective countries. They agreed to arrange the visits at a suitable time.