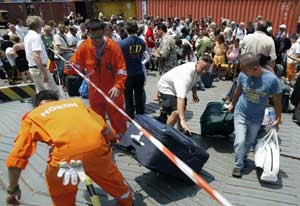 Foreigners evacuate from Lebanon at the port in Beirut (AFP Photo)
Foreign Ministry spokesman Le Dzung said relevant agencies have been discussing measures to evacuate 300 Vietnamese people within Lebanon to safe places.
The Foreign Ministry has asked the Embassy in Cairo, Egypt, to provide information on the latest developments in Lebanon and to keep close contact to Vietnamese people there.
The Ministry of Labour, War Invalids and Social Affairs has been cooperating with the Foreign Ministry and other relevant agencies to get all the information about Vietnamese labourers working in Lebanon and to help them get out of the battlefields.
Responding to a query concerning the country's reaction about the escalated violence in the Middle East, spokesman Le Dzung said: "Viet Nam is deeply concerned about the escalated violence in the Middle East, causing severe damage to civilians".
"Viet Nam calls upon Israel to stop military escalation and relevant parties to exercise restraint and take practical actions to save the Middle East peace process, create favorable conditions for stabilizing the situation and resolve the dispute through negotiation," he stressed.
Source: VNA