Vietnamese community in Ivory Coast still safe The Vietnamese community in Ivory Coast is still safe and has prepared enough food for their lives.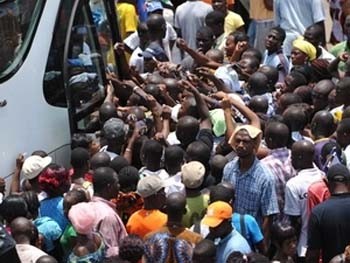 Thousands of people in Abidjan city flock to bus stations to avoid escalating violence (Photo: VNA)
The information was released by the Vietnamese Embassy in Morocco , which is also in charge of Ivory Coast , cited Vietnamese people in the civil war-hit country's Abidjan city as its sources of information.
In the face of the complicated developments of the civil war in Ivory Coast , the Ministry of Foreign Affairs (MoFA) has directed the embassy to urgently study the situation of the Vietnamese community in this country.
"No Vietnamese has been reported dead or injured to date," the embassy said, adding that around 60 Vietnamese people and several French of Vietnamese origin are living and working in Ivory Coast, all in Abidjan city.
To support and ensure safety for the Vietnamese community in Ivory Coast , the Vietnamese Embassy has contacted the French Embassy in Abidjan and local authorised agencies asking for support for Vietnamese citizens.
On April 8, representatives of the MoFA's Department of Consul met with representatives of the French Embassy in Vietnam , asking France to protect and evacuate Vietnamese citizens in Ivory Coast to safe areas and inform the Vietnamese side so that it will take measures to take them home or provide necessary assistance.
Agencies, organisations and individuals that have staff and relatives living in Ivory Coast can contact the Department of Consul via www.lanhsuvietnam.gov.vn or telephone number 04.38430470 or fax number 04.38236928 for assistance.