President Truong Tan Sang held talks with President Raul Castro Ruz in Havana, Cuba on September 29 (Cuba time) following his official welcome ceremony, seeking to bolster the fraternal solidarity and comprehensive cooperation between Vietnam and Cuba.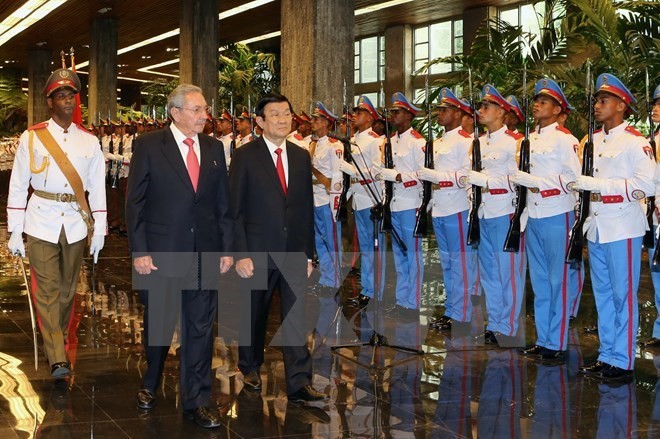 Cuban President Raul Castro and President Truong Tan Sang inspected the guards of honour. (Source: VNA)
The leaders briefed each other on recent situations in their respective countries and exchanged views on regional and international issues of mutual concern.
President Truong Tan Sang relayed wishes from Vietnamese Party and State leaders to President Raul Castrol, Leader Fidel Castro and other high-level Cuban officials.
He congratulated the Cuban people on their success in updating the national economic model and in diplomatic affairs, saying these advancements have created a new momentum for Cuba to improve its prestige and role in the regional and global arena.
The leader expressed his delight at visiting Cuba as the two countries are celebrating the 55th anniversary of diplomatic ties, thanking the Cuban leaders and people for their valuable solidarity and support for the Vietnamese people through the past 50 years.
President Raul Castro welcomed President Truong Tan Sang's visit, saying it contributes to deepening the solidarity, comprehensive cooperation and mutual trust between the two Parties, States and people.
He stated that Cuba treasures Vietnam's valuable support for its past revolution and at the seventh Asia-Pacific Regional Conference for Solidarity with Cuba held in Hanoi on September 8-9.
He congratulated Vietnam on its huge reform accomplishments over nearly three decades and said Cuba is striving to learn from Vietnam's experience and lessons in national construction and defence.
The leaders agreed that the special Vietnam-Cuba traditional relations have reaped new and positive developments across sectors, spurred by all-level delegation exchanges, effective bilateral cooperative mechanisms and the implementation of the bilateral economic agenda signed in March 2014.

They also spoke highly of Vietnam's project to support Cuba to produce rice from 2010-2015 and strengthened cooperation in security, defence and foreign affairs.
The Presidents pointed out that the two countries have untapped potential in economics, trade, investment, science-technology, aquaculture, processing industry, energy, healthcare-medicine and education-training.
They therefore noted the need to maintain inter-Government Committee meetings, strategic dialogues at the defence deputy ministerial level and political consultancies between deputy foreign ministers.
At the same time, legal frameworks should be screened and refined and a new trade agreement should be inked shortly to maximise economic, trade and investment cooperation.
Specifically, the two countries need to improve the efficiency of underway and upcoming joint agriculture and aquaculture projects; facilitate business market access; and carry out joint venture projects on oil and gas production, tourism infrastructure construction, building material, consumer goods, telecom software and devices production.
They should consider establishing mechanisms for joint research and a pilot production of medicines and new-generation bio-healthcare products along with promoting cultural, sport, tourism, education and training partnerships.
Multilaterally, the leaders declared that the two countries will continually boost collaboration, cooperation and support at international organisations and multilateral forums while joining together in the common struggle for peace, stability and cooperation within the two continents and around the globe.
They affirmed their support for dealing with sovereignty disputes through peaceful measures and with respect for international law.
President Truong Tan Sang took the occasion to hand over 5,000 tonnes of rice as gift from the Vietnamese leaders and people to the Cuban people
He invited President Raul Castro to return to Vietnam for another visit, which was accepted with pleasure.
After the talks, the leaders witnessed the signing of a Government-level mutual recognition of tertiary education qualifications and a Memorandum of Understanding on information exchanges regarding banking inspection and supervision activities between the State Bank of Vietnam and the Cuban central bank.
The same day, President Truong Tan Sang laid a wreath at the late President Ho Chi Minh's statue in Peace Park in Havana.
Later, he met with representatives of the Vietnamese community in Cuba and Cubans who used to work in Vietnam at the Vietnamese Embassy.
The Cuban veteran experts reviewed the time they spent living and working with the Vietnamese people and spoke highly of the country's reform achievements. They thanked Vietnam for assisting Cuba and hoped to continue making contributions to fostering the friendship between the two.
The President hailed the Party, State and people of Cuba for their tireless efforts in national construction, especially the normalisation of relations with the US.
Vietnam treasures opportunities to consolidate ties with partner countries, especially Cuba, he affirmed.
He briefed the event participants on the outcomes of his meetings with Cuban leaders and thanked Cuba for its support to Vietnam in the past and presently.
He hoped the two sides would continue maintaining and fostering the special trusting relations while promoting their untapped potential.
During the meeting, President Sang presented 50 sets of computers to leaders of the Cuban Institute for Friendship with the Peoples and the Cuba-Vietnam Friendship Association.
The President also visited schools named after Vietnamese figures Nguyen Van Troi and Vo Thi Thang and laid a wreath at the Jose Marti statue.
Later the same day, President Raul Castro presented the Jose Marti Order – Cuba's highest distinction to Heads of State, Government leaders and famous foreign people – to President Truong Tan Sang in recognition of his contributions to peace and humanity.
President Raul Castro also hosted a dinner to welcome President Truong Tan Sang, his spouse and the Vietnamese delegation at the Revolutionary Palace in Havana.