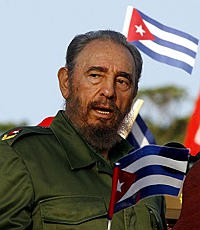 Cuban President Fidel Castro celebrates his 80th birthday on Nov 28
The Vietnamese delegation led by General Le Van Dzung, head of the Political Bureau of Viet Nam People's Army, arrived in La Habana for an official visit to Cuba on the occasion of Cuban President Fidel Castro's 80th birthday and the 50th anniversary of Cuban Revolutionary Arms Forces.

The delegation was warmly welcomed by many Cuban Party and army leaders, and both sides agreed that the visit would further contribute to Viet Nam-Cuba friendship and cooperation.
On the same day, many performance activities were held in La Habana to celebrate Cuban President Fidel Castro's birthday with the participation of 1,800 delegates from 80 countries in the world. Among them are celebrated politicians, thinkers, social activists, intellectuals and artists.