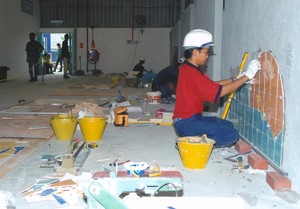 A competitor in wall and floor tiling event
Vietnamese competitors yesterday started well in some events at which they are traditionally strong at a regional vocational skills competition being held in Kuala Lumpur but did not fare quite so well in some others.
They shone at carpentry, IT, and industrial electronics.
However, Vietnamese competitors also showed their inexperience and backwardness in some skills.
In the wall and floor tiling events, in which Viet Nam still uses primitive tools for cutting and tiling curved surfaces, their rivals from other countries used specialized cutting tools with diamond tips.
The ASEAN Skills Competition was born after being endorsed at the ASEAN Labor Minister's Meeting in 1994. The inaugural event was held in Kuala Lumpur in 1995.