Around 24 Vietnamese people will be sent to Finland to work in September, announced Viet Nam's Minister of Labour, Invalids and Social Affairs, Nguyen Thi Kim Ngan and the Finnish Minister of Employment and the Economy, Tarja Cronberg at the meetings of the two countries last week.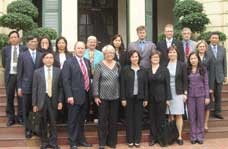 Delegations of the two countries taking part in the meeting last week
The Finnish Minister said that Finland has an aging population and needs around 10,000-20,000 workers a year in the areas of tourism, food and beverage, healthcare and metal and wood processing industries.
She affirmed that Finland will promote cooperation between the countries and give Viet Nam more opportunities in the field of occupation. The Finnish Government will implement strategies to help foreign workers adapt to their new living and working environment.
Beside the memorandum of understanding about cooperation with the Finnish Labour Confederation with a focus on recruitment, the Minister of Labour, Invalids and Social Affairs hopes that the two countries will collaborate and sign a memorandum of understanding on short-term labor contracts.
A Vietnamese delegation will visit Finland to gather relevant and up to date information about the working and living conditions of the Vietnamese guest workers abroad in the near future.