Stories abound in Vietnam of price manipulation by Chinese traders and of Vietnamese farmers and traders being fleeced because they have only negotiated terms orally, with no written documents.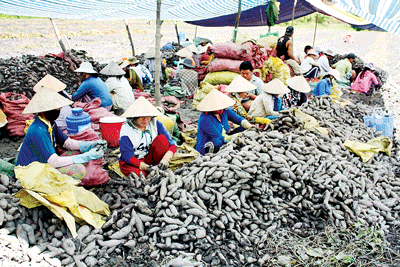 Farmers being fleeced by dishonest Chinese traders in the Mekong Delta (Photo: SGGP)
The sudden drop in Japanese sweet potato, coconut, cassava, crab and other farm produce prices was due to price manipulation by Chinese traders.
Thousands of Vietnamese farmers and traders have lost vast amounts of money after dealing with dishonest Chinese traders who cannot stick to their word.
With red pepper and dried coconut prices suddenly slumping by as much as 75 per cent, not only farmers but also traders in the Mekong Delta have fallen into bad times.
Farmers lost money because of falling prices, but local traders who collect farm produce and sell to Chinese buyers are on edge as Chinese traders have reneged on payments.
Dao Van Duy, an agent of Chinese traders in Binh Tan District of Vinh Long Province, said that the Chinese knew very well that the Vietnamese domestic market has very little consumption of Japanese sweet potatoes, still Chinese traders goaded farmers into growing the crop and as soon as there were bumper crops, unscrupulous Chinese traders depressed the price, with farmers taking the flak.
In April 2012, Duy transported five trucks with 390 tonnes of Japanese sweet potatoes worth VND1.1 billion (US$ 52,770), yet the Chinese only paid him VND200 million and returned to their country without clearing the balance payment.
Moreover, local Vietnamese farmers and agents understand little about the methods applied by Chinese traders, who just make orders verbally via telephone. All transactions are oral with no written contracts; therefore, the Vietnamese do not have any binding written documents.
Pham Huu Duc, chairman of People's Committee of Thuan An Commune in Binh Minh District in the Mekong delta province of Vinh Long, said scores of Chinese traders arrived in the province as tourists and found temporary residences and rented warehouses for stockpiling farm produce.
None of them had the backing of a company or even financial documents as proof of their credibility, Duc said.
The situation is worst in Ca Mau Province where many local agents have been fleeced by dishonest Chinese traders who have doped them out of billions of dong. Duong Tien Dung, deputy chairman of the provincial People's Committee said authorities had ordered the police to investigate.
Related article:
Mekong delta farmers despair as Chinese traders dictate terms