Unable to find buyers for their harvest, Mekong Delta rice farmers are storing huge amounts of rice in their homes, at the same time as tons of tasty rice is imported into Vietnam from Thailand and Cambodia every day.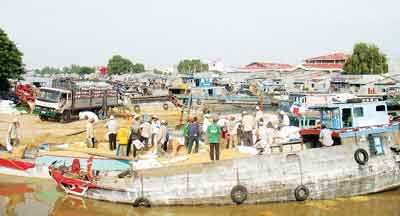 Tons of rice from Thailand and Cambodia is imported daily (Photo:SGGP)
For their last crop, Mekong Delta farmers grew low-quality rice varieties, such as IR50404 and 3217, but they are now thinking twice about these varieties.
As the floodwaters in the nation's famed "rice bowl", the Mekong Delta, recedes, farmers are racing against time to plant their next crop.
Most are choosing to plant tasty rice, confident the demand for tasty Thai and Cambodian rice means their harvest will find a ready market.
Ms. Hai Hue, a farmer from the Thoai Son District in the southern province of An Giang, said her family wanted to buy tasty rice seed but none was available. Instead she bought Jasmine rice seeds for VND6,000 per kilogram, compared to VND3,000 for low-quality rice varieties and to VND4,000 for high-quality rice varieties.
However, the origin and quality of the seeds she bought isn't clear and she's not sure who will buy the rice when it's harvested. 
This situation has happened before. Scientists advised farmers in March to plant only 15-20 percent of their paddies with high–yielding IR50404 rice, which is usually used to make rice noodles and griddle-cakes.
But Mekong delta farmers ignored the recommendation, thinking any kind of rice would be suitable for export. The low-quality, high-yielding and quick-growing IR50404 variety became the preferred choice of crop for Mekong Delta rice farmers. 
The farmers now planting tasty rice for the winter–spring crop don't really know the level of demand there will be for this rice.
Although Vietnam exports around 60,000-90,000 tons of tasty rice a year, it faces tough competition from Thailand, which is internationally famous for its high-quality rice. Thailand monopolizes the supply of fragrant rice because Thai farmers have good seed while Vietnamese farmers don't know the origins and quality of their seed.
Dr. Le Van Banh, Head of the Cuu Long River Delta Rice Research Institute, sounded an alert for the winter–spring crop, saying authorities should encourage farmers to allocate 15-20 percent of their rice fields for normal and tasty rice varieties, including IR50404, and reserve 60 percent for high-quality rice for export.
Related article:
Cross Border Trade Shows VN Demand for High Quality Rice