Two mothers of Vietnamese soldiers lost at war, Nguyen Thi Hung and Nguyen Thi Do from Cu Chi District, approximately 70km northwest of Ho Chi Minh City, have each been given a compassion home.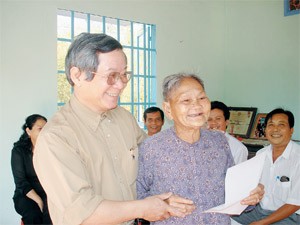 Editor-in-chief Duong Trong Dat  (L) congratulates mother Nguyen Thi Do on her new house
On Thursday, Sai Gon Giai Phong newspaper representative, Editor-in-Chief Duong Trong Dat, and the International Communication Company representative, Deputy Director Chu Van Tuan, handed over the two compassion homes to Mrs Nguyen Thi Hung, mother to three sons who died whilst fighting against US troops and Mrs Nguyen Thi Do, mother to four sons that all fought in the war, one of who lost his life whilst the others three were wounded.
In addition to presenting the two houses, each worth VND40 million (US$2,500), Mr Duong Trong Dat and Chu Van Tuan offered both mothers a savings book, each worth VND10 million (US$625).
Addressing the ceremony, Mr. Duong Trong Dat praised the Cu Chi District's People's Committee and Department of Labor, War Invalids and Social Affairs in completing the construction of both houses in time for the two women to enjoy their new houses in the coming lunar New Year.
Editor-in-Chief Duong Trong Dat also said that the newspaper, along with other enterprises, will continue to carry out charity programs to help other poor families in the country.