Party General Secretary Nong Duc Manh, State President Nguyen Minh Triet, Prime Minister Nguyen Tan Dung and NA Chairman Nguyen Phu Trong have sent condolence messages to their Chinese counterparts over the great losses caused by an earthquake in western Sichuan province of China.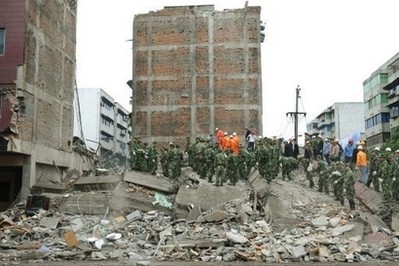 Chinese soldiers clear rubble from a collapsed building in Mianzhu. China's biggest earthquake for a generation has left tens of thousands dead, missing or buried under the rubble of crushed communities, plunging the nation into an all-out aid effort.(AFP/Mark Ralston)
The messages were sent to Chinese Party General Secretary and President Hu Jintao, Chairman of the National People's Congress Wu Bangguo and Premier Wen Jiabao on May 13, following the natural disaster that occurred on the early afternoon of May 12.
The earthquake has claimed devastating losses of human lives and property, affecting the lives and production of millions of Chinese people.
On the same day, Deputy Prime Minister and Minister of Foreign Affairs Pham Gia Khiem also extended condolences to Chinese Foreign Minister Yang Jiechi.