The Vietnamese Lychee Day was held in the Australian city of Melbourne on June 29 with the goal to popularise the fruit in the country.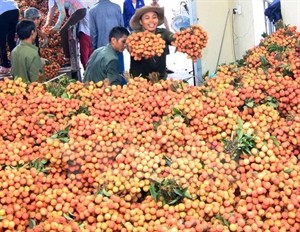 Lychee purchasing in Thanh Ha District, Hai Duong province. (Photo: VNA)
The event, organised by the Vietnam Trade Office in Australia, attracted a number of overseas Vietnamese nationals and international friends.
About 300 kilograms of lychees, priced at 14.99 AUD (11.5 USD) per kilogramme, were consumed on the day.
According to Nguyen Hoang Thuy, Head of the Vietnam Trade Office in Australia, Vietnamese lychee will find a foothold in Australia, given the fruit has thus far received a positive market response.
The Trade Office will conduct promotion campaigns in the other Australian cities to support the fruit's consumption in the host market, she added.
Vietnamese lychee has been lauded by consumers for its quality and taste.
Vietnam has shipped about 30 tonnes of lychees to Australia.-VNA