National Assembly Speaker Nguyen Thi Kim Ngan led a high- ranking delegation of Vietnamese National Assembly to begin an official visit to Czech Republic from April 11- 14 (local time).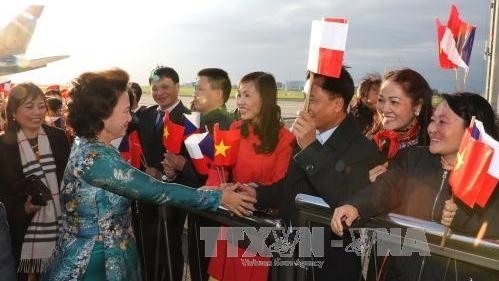 Overseas Vietnamese in the Czech Republic welcome NA Chairwoman Nguyen Thi Kim Ngan. (Credit: VNA)
Yesterday evening, the delegation visited and worked with Vietnamese Embassy in Czech Republic.
At the reception, Chairwoman Nguyen Thi Kim Ngan highly appreciated contributions & achievements as well as praised efforts of leaders and officials of the agency during the previous time; and she strongly affirmed that Party, State and National Assembly always pay much attentions, assist and create the best favorable condition for the foreign representations that contributed in protecting, building and developing the country.
On the same day, the Vietnamese leader met President of the Communist Party of Czech-Morava and Deputy Speaker of Lower House of the Czech Republic Mr. Vojtech Filip within an official visit program to Czech Republic.
Czech Republic is the first Eastern European country to provide official development assistance (ODA) for Vietnam. Since 1999 up to now, the country's government has given scholarships for Vietnamese students and researchers.
The two nations has strengthened economy, commerce and investment relations. The two way commercial turnover is moderately good.
The country has total 34 projects with total investment capital of US$ 89.9 million, and ranked the 45th position among 116 countries and territories to invest in Vietnam.
More than 60,000 Vietnamese people lives, works and studies in the east Europe country.
In 2013, the Czech government decided to recognize Vietnamese Czech people as the 14th ethnic group.