On the occasion of the 60th anniversary of the Vietnamese National Assembly, a solemn meeting was held in the morning of January 5, 2006 in Ha Noi.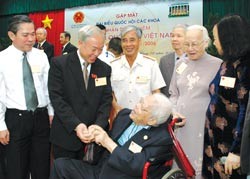 NA Chairman Nguyen Van An greets former NA Deputies
"I strongly believe that the Vietnamese National Assembly will perform its primary functions in the coming time, contributing to the cause of building and strengthening a law-based state of people, by people and for people, executing the important tasks given by Vietnamese people," Party General Secretary Nong Duc Manh said.

Present at the meeting were Party General Secretary Nong Duc Manh, President Tran Duc Luong, Deputy Minister Phan Van Khai, National Assembly Chairman Nguyen Van An, former Party General Secretary Do Muoi, former Party General Secretary Le Kha Phieu, former President Le Duc Anh and Vietnam Fatherland Front President Pham The Duyet.

Addressing the meeting, National Assembly Chairman Nguyen Van An recalled the glorious moment shared by people in all parts of the country during the day of electing deputies to the first Vietnamese National Assembly 60 years ago.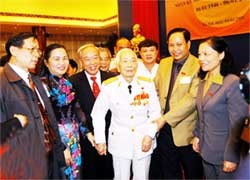 Former NA Deputies
On January 6, 1946, all Vietnamese citizens over the age of eighteen, irrespective of gender, wealth, religion and political opinions, took part in the First General Election in which their representatives were freely elected to the National Assembly. This National Assembly, which went into the country's history as a great milestone, voted and approved the first Constitution of the Democratic Republic of Vietnam on November 9, 1946.

The new democratic regime has been progressively consolidated. Following the key ideology of the 1946 Constitution and the 1959 Constitution, the National Assembly adopted the constitution of the socialism-oriented stage in 1980 and the constitution of the comprehensive renovation stage in 1992.

Over the past 60 years of establishment and development, the National Assembly has continually grown, gradually performing its functions as the highest representative agency of the people, implementing the people's rights to constituent power, law making, and supreme supervision and decisions on important national matters.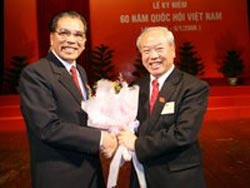 Party General Secretary Nong Duc Manh and NA Chairman Nguyen Van An
Chairman Nguyen Van An also pointed out that the National Assembly should focus efforts on four difficult tasks ahead. First, it is necessary to strengthen the legislative process and improve the capacity of advisory agencies. Second, the National Assembly should create more favorable conditions and facilities for activities of its agencies. Third, the quality of National Assembly deputies should be improved. The fourth task is the need to actively and effectively continue the National Assembly's external activities.

Party General Secretary Nong Duc Manh stated that the National Assembly represents the will of national solidarity and unity. With its achievements over the past 60 years, the Viet Nam National Assembly has proved itself deserving the highest representative agency of the people, the highest State power, and the political and legal foundation for the existence and development of the Vietnamese State's administration.