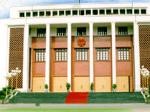 Vietnamese National Assembly Headquarter
The Ministry of Information and Culture has published a book entitled "60 years of the Vietnamese National Assembly". This book marks the 60th anniversary of the Vietnamese Socialist Republic's National Assembly (1946-2006).
The book, which is of medium size (16cm x 24cm) with 64 pages and a beautiful cover, provides practical information about the forming and developing history of the first National Assembly to the eleventh National Assembly of Viet Nam.
Particularly, the photos of former President Ho Chi Minh and chairmen of the National Assembly over the past years are also included.