A naval vessel had been dispatched to Co To Island and taken 1500 stranded tourists ashore, said deputy head of the National Defense Ministry's Rescue Department Colonel Vu The Chien at a meeting in Hanoi yesterday.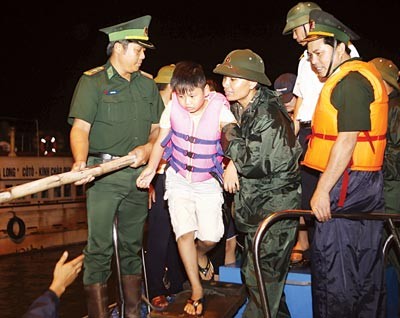 A naval vessel takes 300 stranded tourists ashore from Co To Island on July 30 (Photo: SGGP)
However, because of strong storm the vessel could receive only 300 tourists yesterday and the Navy will take more tourists home this morning.
 
The tourists got stuck in the island because of torrential rains which have triggered flooding and landslides in Quang Ninh since Sunday night killing 18 so far.
At the meeting, Chairman of the province People's Committee Nguyen Duc Long said that local authorities would be held responsible for any other flooding dead case.
Thirty households in Ha Long city, 27 in Van Don district and 20 in Cam Pha city were still under influences of floodwaters on Thursday.
Although rains have abated, residential areas are in alarming threat of landslide and dam breach from mining landfill sites.
 
The province has urgently evacuated 229 households from Coc Sau coal mine area to safer places in Cam Pha city.
 
The infrastructure system of Ha Long city has been outdated and inadaptable to severe downpour and flooding as present, according to Mr. Long.
Quang Ninh authorities will relocate people from dangerous areas, review drainage system, and re-plan residential areas and mud waste and mining landfill sites in long term, he added.
Director of the National Hydro Meteorological Forecasting Center Hoang Duc Cuong yesterday said that the northern region had seen rainfall far exceed the record high in 2008 to reach 1,000mm.
Besides Quang Ninh, Lang Son province has experienced torrential rains for the last 12 hours.
 
Director of the Lang Son Department of Agriculture and Rural Development Le Thi Thanh Nhan said that water levels were surging high in Ky Cung and Chi Lang rivers. Floodwaters running down from mountains has overflowed Dong Mo town, a strange phenomenon. The province has recorded one dead child due to floodwaters.
 
Rainy condition will increase nationwide in the next couple of days. The Mekong Delta is forecast to see a flooding in the upper reaches of the Tien and Hau rivers.
The northern region is expected to suffer heavy rains from July 31-August 4 with precipitation lower than the downpour on July 23-25, he said.

Related articles:
Clean-up efforts ongoing in flood ravaged Quang Ninh province
30 dead, missing in Quang Ninh downpour
Three killed in Quang Ninh 40 year record downpour