Representatives of the Ministry of Foreign Affairs and the Ministry of Labor, War Invalids, and Social Affairs arrived in Jordan on Wednesday to settle a labor dispute between Vietnamese guest workers and an Arab company.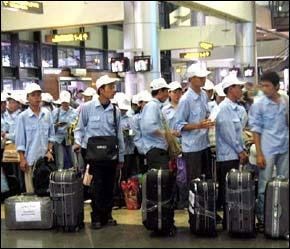 Vietnamese guest workers check in at the airport before going abroad to work
The 176 workers are still on strike and refuse to talk to local authorities, according to Mr. Tran Viet Tu, a minister counselor at the Vietnamese Embassy in Cairo. Some of them insist on returning home, he added.

The officials plan to help the workers finish proceedings and then return them to Viet Nam, Mr. Nguyen Thanh Hoa, Deputy Minister of Labor, War Invalids and Social Affairs said.

Jordan's Labor Ministry is investigating whether striking workers were beaten by police.


Related stories:
Have Vietnamese Workers in Jordan Been Actually Maltreated?
Vietnamese Workers in Jordan Shout for Help