Vietnam is determined to foster sustainable development as its regular and long-term orientation, President Truong Tan Sang stated during his meeting with United Nations Secretary-General Ban Ki-moon in New York, the US, on September 24 (local time).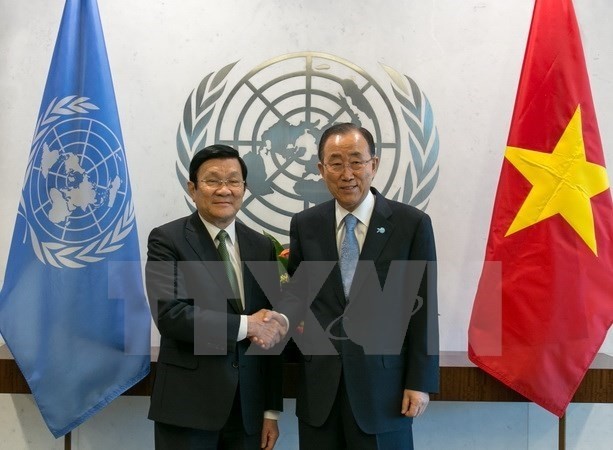 President Truong Tan Sang (L) meets with UN Secretary-General Ban Ki-moon in New York (Photo: VNA)
At the meeting held on the occasion of his participation in the UN Summit, the Vietnamese leader shared with the UN Secretary-General the view that the UN Summit for the adoption of the Post-2015 Agenda on September 25 (local time) is of great significance to the development of all countries and the UN itself in the next 15 years.
President Truong Tan Sang said Vietnam has been including the Sustainable Development Goals (SDGs) in national strategies and programmes which always centre round people.
He noted an array of challenges facing Vietnam as it has just become a middle-income country, asking the Secretary-General and the UN to support the nation in successfully implementing the 2030 Agenda.
As an active and responsible member of the international community, Vietnam is committed to joining global efforts in coping with climate change and paying concrete contributions to the UN peace-keeping activities, he added.
Ban Ki-moon highly valued Vietnam's active participation in the building of the Post-2015 Agenda and the UN Summit's agenda on ratifying the document.
He voiced the belief that as one of the eight nations taking the lead in carrying out the "One UN" initiative and also standing out in the Millennium Development Goals realisation, Vietnam will successfully achieve the SDGs by 2030.
He also appreciated Vietnam's active support to bolstering the relationship between ASEAN and the UN.
With regard to regional issues of shared concern, President Truong Tan Sang spoke highly of the UN Secretary-General's viewpoint and positive and objective comments on the East Sea matter.
He asked Ban Ki-moon to further advocate and push for the peaceful handling of disputes in accordance with international law, particularly in the 1982 UN Convention on the Law of the Sea (1982 UNCLOS) and the Declaration on the Conduct of Parties in the East Sea (DOC), along with efforts to shortly finalise a code of conduct in the waters (COC).
Ban also renewed that East Sea disputes must be solved through peaceful measures on the basis of the 1982 UNCLOS and DOC and endeavours to conclude a COC.
During the UN Summit from September 25 to 28, President Truong Tan Sang is scheduled to attend the opening ceremony and deliver a speech at a plenary session. He will also meet with other country leaders and attend a Vietnam – US business dialogue on impacts of the Trans-Pacific Partnership agreement on the Southeast Asian nation and the Vietnam – US trade.-VNA