State President of Vietnam Tran Dai Quang had a working with Vice Chairman of Hyundai Motor Company Chung Eui- sun at Presidential Palace in Hanoi capital yesterday.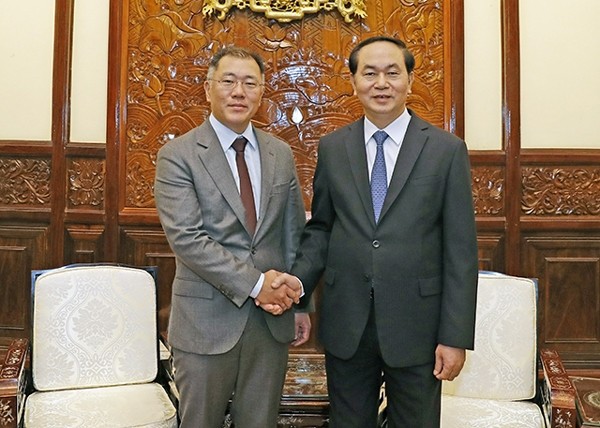 Vietnamese President Tran Dai Quang (R) and Vice Chairman of Hyundai Motor Company Chung Eui- sun.
At the reception, the Vietnamese president expressed his pleasure as Vietnam- Korea partnership relations strongly developed as well as got important multi- faceted achievements during 25 years ago.
South Korea becomes Vietnam's the biggest direct foreign investor of Vietnam, the second biggest ODA and tourism partner, and the third biggest commercial partner.

In the first three months of this year, Korea's direct investment in Vietnam has trended rapid increase. In the first two months, its investment capital in Vietnam reached US$ 3.1 billion, including US$ 2.5 billion for expansion investment projects of Samsung in Bac Ninh province and others biggest economic groups as LG, Kumho, Emart etc etc…which plan for expansion investment in the country.
President Tran Dai Quang highly appreciated investment operation of Hyundai Motor Group in his country during previous time; and he stressed that the company step by step becomes one of major partners of Vietnam in the fields of automobile assembly and production.
With good political relations in combination with legal advantages and conditions in a framework of Vietnam- Korea Free Trade Agreement (FTA), Hyundai Motor Company will continue expanding its investment and business in the Southeast Asian country, paying attention in technology transfer, raising the localization rate of product to take full advantage of tax and competitiveness of other brands.
In parallel, Hyundai Motor needs to actively research investment cooperation of automobile production in Vietnam.