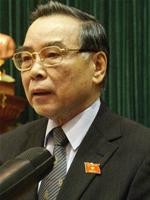 Mr.Phan Van Khai

Vietnamese Prime Minister Phan Van Khai had a talk with 15 foreign affairs officials who have just been appointed ambassadors in countries on May 5 at the government office.

In the meeting, the Prime Minister told ambassadors about the good results of the tenth Party Congress and the government policies on politics, foreign affairs, socioeconomic growth for the next years.
About ambassadors' duties, the Prime Minister believed that Ambassadors should be creative in executing the State and Party's foreign policy under the motto of independence, multi-lateralization and diversification of international relations and friendship with all countries.