Viet Nam's Prime Minister Phan Van Khai on June 16 asked the National Assembly to officially accept his resignation one year before the end of his term. The 73-year-old PM has served two terms since 1997.
In his resignation proposal, PM Khai said, "At the Party's tenth congress, because of my old age, my wish of not joining the Party Central Committee and the Politburo of the new tenure was accepted. The tenth Party Central Committee agreed to let me ask the NA to approve my resignation more than one year prior to the end of my term and to select a Politburo member for the State President to recommend to the ninth NA session as a candidate for the post of Prime Minister. I do hope that the NA accepts my resignation request."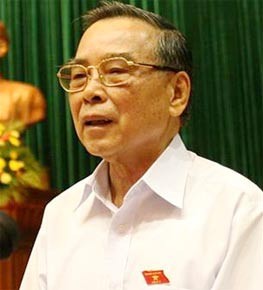 Prime Minister Phan Van delivers his speech.
He delivered to the NA sitting his speech of what he has done and has yet done, and his experience after 15 years in the Government. He said he expected his experience to be useful for the Government in the future.
Mr. Khai said what has done over the past years includes renewing the Government's organization and operation to adapt to the requirements of the socialist-oriented market economy; re-organizing State-owned enterprises and attracting foreign investment; implementing investment and support policies for poor people and underdeveloped areas to help them develop production and improve their lives; and organizing external activities to pave the way for increased cooperation and linkages among businesspeople as well as exchange of relations between the Vietnamese people and other nations.
PM Khai expressed his worries about existing weaknesses in the national economy, society and the state apparatus that are hindering the country's economic development.
He said serious wastefulness and drainage of capital and public property has occurred, especially in projects funded by the State budget; the education and training sector has struggled against low quality and negative practices; the science and technology field has still failed to meet demands; degradation has still been found in the cultural sphere and the ecosystem; traffic accidents and social evils remains rampant; and the building of the law-governed State, administrative reform, and promotion of democracy have been undertaken slowly.
He told the legislators that the major target in the next five years is to get the country out of underdevelopment.
Towards this target, the country needs to fully tap its potential while the people themselves have to overcome restrictions in physical capability, knowledge and skills, PM Khai stressed.
Viet Nam expects to join the World Trade Organization before this November, when it hosts an Asia Pacific Economic Cooperation (APEC) summit, its largest ever international meeting set to be attended by world leaders, including US President George W. Bush.