Prime Minister Nguyen Tan Dung on August 9 held a reception for visiting US Senators John McCain and Sheldon Whitehouse in Hanoi.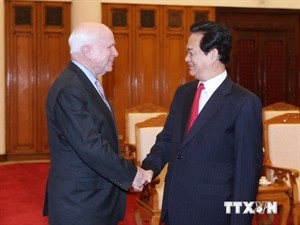 Prime Minister Nguyen Tan Dung (right); US Senator John McCain (Photo: VNA)
During the meeting, PM Dung stated that Vietnam is keen on working with the US to bolster bilateral ties in various areas, especially politics, diplomacy, economics, trade, investment, education and training, and science and technology.
He proposed that the US support Vietnam in the negotiations for the Trans-Pacific Partnership (TPP), while applying flexible stance on Vietnam during the negotiation process.
Hailing the contributions of the two Senators to the development of ties between the two countries, PM Dung noted with pleasure that the Comprehensive Partnership between Vietnam and the US is growing in all fields.
Expressing wish to further defence-security ties with the US , PM Dung said Vietnam hopes for the US 's support in improving the country's ability to safeguard its national sovereignty.
He suggested the US to assist Vietnam in overcoming the aftermath of war, especially in bomb and mine clearance and Agent Organe/Dioxin consequences.
The PM added that Vietnam is ready to coordinate with the US in the area of cyber security.
Regarding human rights issue, PM Dung made it clear that Vietnam has exerting efforts to better ensure human rights as this is not only a goal of the country but also a legitimate desire of Vietnamese people.
The human rights situation in Vietnam has been positively improved, he noted, stressing that Vietnam is willing to hold dialogue with the US on the area.
For his part, Senator John McCain noted that the global situation continues becoming complicated with clashes occurring in many areas.
Notably, maritime security, safety and freedom in the East Sea have always been a hot issue concerning many countries in the world, he said.
Both McCain and Whitehouse agreed that in order to ensure peace, security, and maritime and aviation safety and freedom in the East Sea, all parties concerned, including China, should abide by international law, especially the 1982 United Nations Convention on the Law of the Sea, refraining from using or threatening to use force, and settling all disputes through peaceful measures.
They also emphasised the need to strictly implement the Declaration on Conduct of Parties in the East Sea (DOC) as well as the building of a Code of Conduct in the East Sea (COC) in an early date.
McCain pledged that he and Whitehouse will propose to the US Congress to lift the ban on lethal weapons sales to Vietnam.
The two Senators also stated that the US is keen on further boosting partnership with Vietnam in maritime security, cyber security, environmental protection and water resources preservation.