Since the Cambodian government issued a ban on sand exports, a large amount of sand from the Mekong Delta has been sold to foreign countries in the first six months of the year.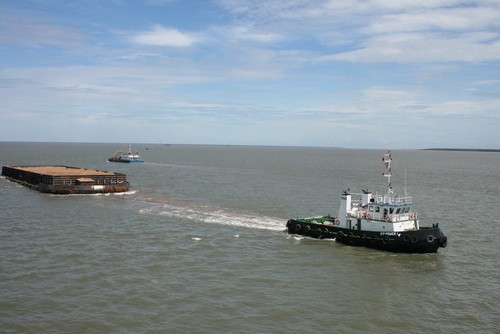 Mekong Delta sand is shipped overseas ( Photo: Tuoi tre)
There has be an incredible increase of sand exported through the Department of Customs in the Mekong Delta city of Can Tho this year.
In 2008, total sand exports totaled 1.1 million tons, yet it is seven times this amount in just the first six months of 2009.
Before May, 2008 when the Cambodian government had not banned sand exports, Mekong Delta sand could not compete with that of Cambodia due to poorer quality.

However, export companies took advantage of the Cambodian government ban to exploit sand to serve huge demands from Singapore and other countries in the region.
Previously, Cambodia sold sand at VND90,000 a cubic meter while its Vietnamese counterpart was just VND40,000. It still led to companies rushing to dredge sand as it generates large profits. Mined sand fetches just VND17,000 per one cubic meter.
The huge demand and enormous profits to be made have increased sand dredging, which noisily takes place in the rivers of Tien and Hau, causing headaches for local governments.
Hundreds of dredgers and barges have been working at full-blast on the rivers after docking at the Can Tho and Cai Cui ports, Vu Duc Hung, an official from the Can Tho's Waterway Police said.
Hundreds of thousands of tons of sand is taken away daily from the delta in ten large ships, he added.
As of October, 2008, the Prime Minister ordered a tightening of management on transportation, exploitation and consumption of sand.
The decree says the country should temporarily halt exports of river and ocean sand for construction except for those companies who had signed contracts before November 31, 2008.
Nguyen Minh Thong, deputy head of Can Tho's Department of Customs, pointed out that the decree did not mention the expiry date for ending exporting sand while his department cannot supervise the date s on contracts.
Mr. Thong added the Government should calculate proper levels for exports and domestic demand.
As sand is non-renewable natural resource, the endless selling of sand overseas can cause negative consequences for the local environment, he added.

Related articles:
Lack of funds slow landslide protection
Officials struggle to halt illegal sand dredging