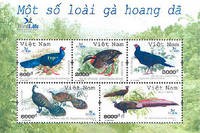 The Vietnamese stamps of rare Galliformes
A stamp set depicting Vietnam's endangered and endemic partridges and pheasants (Galliformes) will be issued by the Ministry of Posts and Telecommunications on April 1, 2006, according to Ms. Dang Nguyen Hong Hanh, agent of BirdLife International in Viet Nam.
In consultation with ornithological experts from the BirdLife International Vietnam Program, the Ministry selected five Galliformes to be depicted on the new stamp set.
They are Edwards's Pheasant Lophura edwardsi, Orange-necked Partridge Arborophila davidi, Vietnamese Pheasant Lophura hatinhensis, Germain's Peacock-pheasant Polyplectron germaini and Crested Argus Rheinardia ocellata.
All five species have small populations that are declining because of habitat loss and much hunting.
This is the first time BirdLife International and the Ministry co-operated to publish stamps depicting Vietnam's spectacular bird life.
Related Link:
BirdLife International